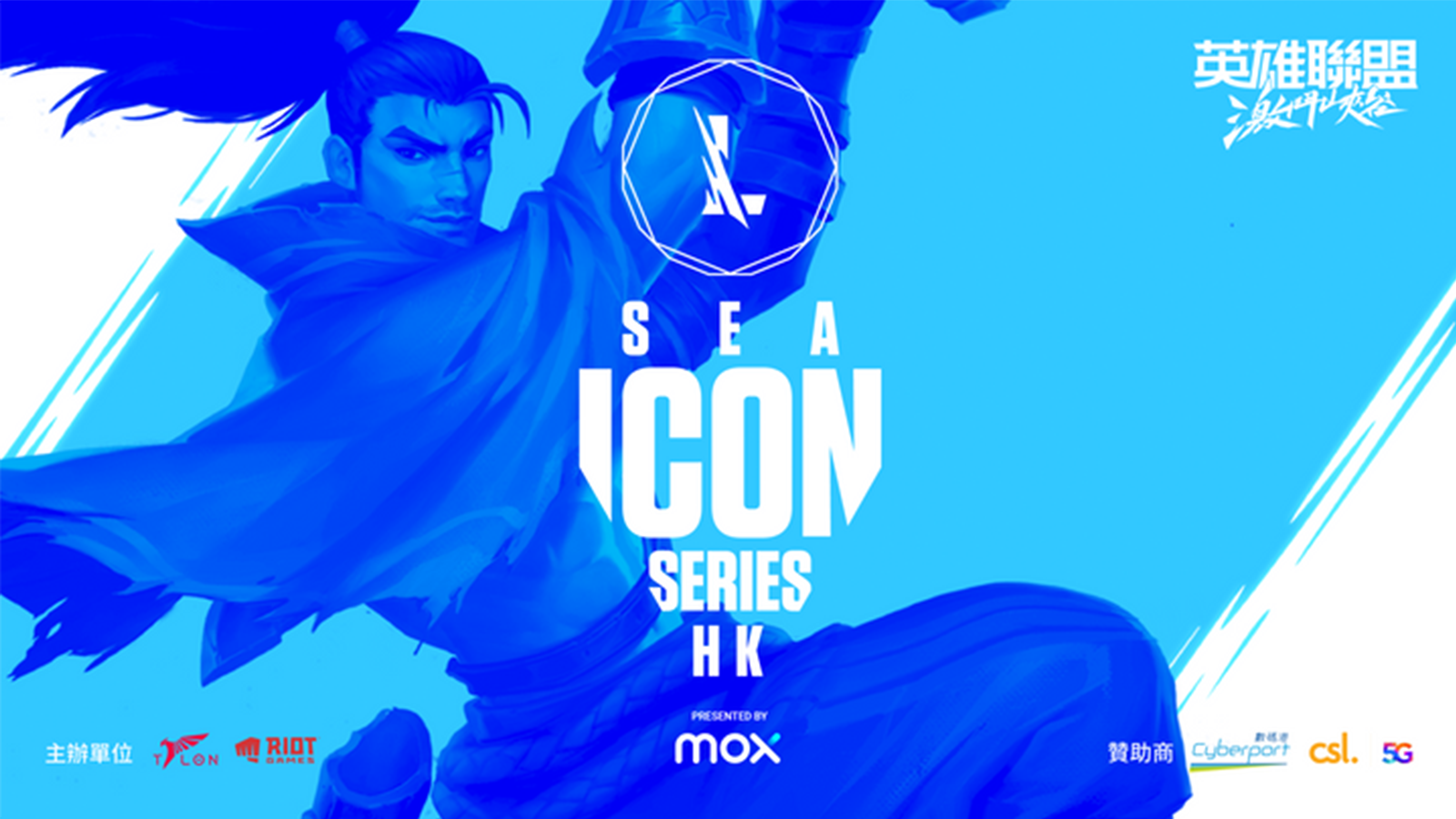 TALON ANNOUNCES WILDRIFT SEA ICON SERIES IN HK
League of Legends: Wild Rift for Android and iOS launches in Hong Kong on March 30th
All players and fans are invited to sign up for the 2021 League of Legends: Wild Rift SEA Icon Series Hong Kong: Summer Season Presented by Mox, starting April 16th
Find out more now at talon-x.gg

/wildrifticonserieshk
[HONG KONG: March 30, 2021] To celebrate the official mobile launch of Riot Games Southeast Asia's League of Legends: Wild Rift in Hong Kong on March 30th, Talon Esports is proud to announce the 2021 League of Legends: Wild Rift SEA Icon Series Hong Kong: Summer Season Presented by Mox. Along with csl and Cyberport as partners, the Hong Kong tournament kicks off on May 1st until June 20th.
As part of a competitive regional esports tournament that includes eight markets in Southeast Asia — Hong Kong, Indonesia, Malaysia, Singapore, Taiwan, Thailand, The Philippines, Vietnam — the Wild Rift SEA Icon Series is aimed to showcase the skill and bravado of the game's top-tier players and teams in the region. Targeting both amateurs and professionals to participate, the series hopes to introduce fans to a new entry point to jump into the global League of Legends: Wild Rift ecosystem through competitive esports.
Sign-ups for the Hong Kong tournament are first come, first served on www.talon-x.gg/wildrifticonserieshk. Registration opens on April 16th at 00:01, and closes on April 25th at 23:59 — unless the cap of 64 team registrations (of five players, with up to three substitutes) is reached before then. All registered players will need proof of identity to show they are Hong Kong residents aged 17 and above, and they must be physically based in the HKSAR.
The tournament is fully online with a possibility of an offline event for Summer Season Finals, pending local Covid-19 restrictions:
May 1-2: Open Qualifier 64 teams, best-of-three, single-elimination format
[no broadcast]
May 7-9 / May 28-30 / June 4-6 / June 11-13: Group Stage for top eight teams from Open Qualifiers, double round-robin, best-of-three format
[online broadcast, in Cantonese]
June 18-20: Finals for the top four teams from Group Stage, best-of-five, single-elimination format for semi-finals and best-of-seven, single-elimination format for finals
[online broadcast, in Cantonese].
"With an ever-growing mobile esports player base and audience within Asia-Pacific, we are honoured to work with Riot Games to launch official esports tournaments in Hong Kong and the region," said Sean Zhang, CEO & Co-Founder of Talon Esports.
Deniz Güven, CEO of Mox Bank Limited (Mox), said: "Mox is thrilled to be the only virtual bank in Hong Kong to sponsor the League of Legends: Wild Rift SEA Icon Series Hong Kong, celebrating the highly-anticipated game launch here. We believe that mobile experiences in gaming and banking come hand-in-hand — not only because of our beautiful and instantly-available digital Mox Card, which rewards our Generation Mox customers with a 5% CashBack on all App Store and Google Play transactions, but also as the people of Hong Kong increasingly seek entertainment and services which are available on-the-go and 24/7."
Bruce Lam, Managing Director of Consumer Mobile at csl Mobile said: "csl Mobile is dedicated to promoting competitive esports in Hong Kong. We hope to provide csl's 5G mobile network to gamers through our partnership with Talon Esports and Riot Games, as well as nurture elite players that can represent Hong Kong in the international arena."
Eric Chan, Chief Public Mission Officer of Cyberport, said: "Having international leagues and tournaments taking place in Hong Kong is essential for the vibrant development of our esports industry. We are delighted to see that our incubatee Talon Esports is hosting the 2021 League of Legends: Wild Rift SEA Icon Series Hong Kong: Summer Season. It will elevate the visibility of local esports players on the global stage and showcase Hong Kong's strength in organising professional competitions and events to the global esports audience."
The Wild Rift SEA Icon Series will be the first tournament produced by Riot Games Southeast Asia, in partnership with regional partners. The series is an important foundational step to establishing the regional legacy that Southeast Asian players and teams can bring to the global mobile MOBA esports scene. More details on the full League of Legends: Wild Rift Southeast Asia Icon Series will follow soon. For more information, visit wildrift.leagueoflegends.com, facebook.com/PlayWildRift or twitter.com/wildrift.
About Talon Esports
Established in 2017, Talon Esports is an esports organization founded and headquartered in Hong Kong. The organization has teams competing League of Legends, Arena of Valor, Overwatch, Rainbow 6, Tekken 7 and Street Fighter V. Operating out of Hong Kong, Taiwan, South Korea and Thailand with creative studios in each location, it is one of the fastest-growing teams in Asia-Pacific, with millions of fans globally.
For more information, visit www.talon.gg or contact info@talonesports.com.
IG: @talon_esports // Twitter: @Talon__esports // Facebook: facebook.com/psgtalonlol
About Riot Games:
Riot Games was founded in 2006 to develop, publish, and support the most player-focused games in the world. In 2009, Riot released its debut title, League of Legends, to worldwide acclaim. League has gone on to be the most-played PC game in the world and a key driver of the explosive growth of esports.
As League enters its second decade, Riot continues to evolve the game while delivering new experiences to players with VALORANT, Legends of Runeterra, Teamfight Tactics, League of Legends: Wild Rift, and multiple work-in-progress titles, while exploring the world of Runeterra through multimedia projects across music, comic books, TV, and more. Founded by Brandon Beck and Marc Merrill, Riot is headquartered in Los Angeles, California, and has 2,500+ Rioters in 20+ offices worldwide.
About Mox
Mox is the new virtual bank backed by Standard Chartered in partnership with HKT, PCCW and Trip.com. We are the combined power of a leading international bank, the city's telecom and lifestyle leader and Asia's largest online travel agency. We were among the first to obtain a virtual banking licence in Hong Kong in March 2019.  Launched in September 2020, Mox aims to make banking a delightful experience to help you grow your money, your world and your possibilities. www.mox.com
About csl
csl is a mobile service brand of CSL Mobile Limited. csl is the leading provider of mobile communications and holds the widest range of radio spectrum of any mobile network operator in Hong Kong. Our new 5G service comes complete with a spectacular breed of audio-visual entertainment, riding on 5G hallmarks of ultra-high speed, massive connectivity and ultra-low latency. csl's differentiation from competitors is served by a richness of expertise, diverse partner relationships and an approach that enables customers to see the world differently.
CSL Mobile Limited is a subsidiary of HKT.
About Cyberport
Cyberport is an innovative digital community with around 1,600 start-ups and technology companies. It is managed by Hong Kong Cyberport Management Company Limited, which is wholly owned by the Hong Kong SAR Government. With a vision to be the hub for digital technology thereby creating a new economic driver for Hong Kong, Cyberport is committed to nurturing a vibrant tech ecosystem by cultivating talent, promoting entrepreneurship among youth, supporting start-ups on their growth journey, fostering industry development by promoting strategic collaboration with local and international partners, and integrating new and traditional economies by accelerating digital transformation in the public and private sectors. www.cyberport.hk
For more press information, please contact:
A-VIBE
Ashley Pang, Senior Manager               Gigi Shiu, PR Executive
ashley@asian-vibe.com                         gigi@asian-vibe.com
3106-5503 / 9832-1595                          3106-3579 / 6282-0871