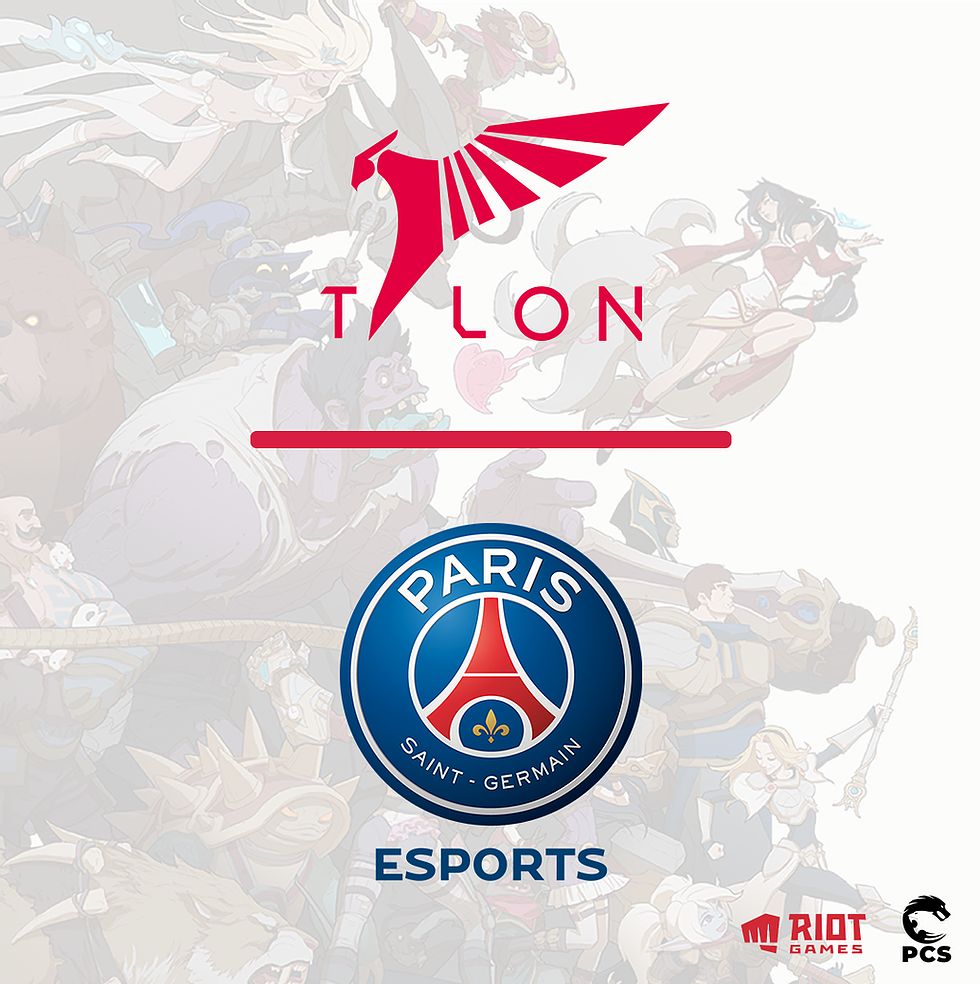 TALON PARTNERS WITH PSG
France's pre-eminent multisports club announces a long-time partnership with ambitious innovator Talon Esports. Together they will be competing in the Pacific Championship Series in Riot Games' League of Legends series.
Paris Saint-Germain and Talon Esports have concluded a multi-year team partnership agreement. The move marks the next chapter in PSG's Esports and wider brand diversification strategy, having been the first major European football club to make a significant play into the space with the launch of the club's Esports division in 2016. The Parisian multisports powerhouse previously competed in the vastly popular League of Legends competition as part of the launch season of PSG Esports, before the competition format was subsequently overhauled by Riot Games.
"We're delighted to kick-off this exciting partnership with Talon and to make a return to League of Legends. Esports remains one of the core pillars of the Club's brand diversification strategy, as we look to enter the next phase of our growth plan" said Fabien Allegre, Brand Diversification and Merchandising Director at Paris Saint- Germain. "As a young and tremendously ambitious organisation, PSG naturally saw Talon as a fitting partner. Whilst this partnership undoubtedly strengthens the Paris Saint-Germain brand visibility in our key markets, and in front of non-traditional football audiences across the globe, we are confident in building a viable Esports business within its own right. Under the leadership of our President Nasser Al-Khelaifi, the Club has long identified the value in Esports and we are committed to investing in the interests of the new generation of potential PSG fans".
The partnership sees the two entities operating a co-branded League of Legends team competing in the Pacific Championship Series across Taiwan, Hong Kong, Macao, Thailand, Singapore, Malaysia and the Philippines. The 10-team PCS is in its inaugural season, having been launched in December 2019, merging the League of Legends Master Series League of Legends SEA Tour, with Talon being the current PCS Spring Split champions.
"Paris Saint-Germain joining forces with Talon is testament to our commitment to the region. League of Legends is a hugely important property on a global scale but particularly within Asia. We look forward to challenging within the PCS and hopefully the World Finals too, and to adding value to our regional partners in new ways" added Sebastien Wasels, Managing Director of Asia Pacific for Paris Saint Germain.
Launched a decade ago, League of Legends remains the number 1 PC game globally, the worldwide sensation drawing in up to 8m concurrent players per day across 145 countries. The Massive Online Battle Arena (MOBA) game is watched by millions across the globe, with the annual World Finals drawing in just under 100 million unique viewers in 2019. Publisher Riot Games is a wholly owned subsidiary of Chinese multinational conglomerate Tencent Holdings.
PSG Talon will play under the "PSG" tag and as PCS Spring Split winners will be immediately looking to qualify for the 2020 World Finals, scheduled to take place in Shanghai in November. The joint organisation will work to deliver competitive victories, with a particular emphasis on talent development and an athletic approach to competitive gaming. Using the commercial and content teams at both respective organisations, PSG Talon will together pursue commercial partnerships and regionally tailored content creation.
Sean Zhang CEO of Talon Esports commented "We recognize that our fans appreciate performance above anything else, so to partner with a club with the history and pedigree of PSG means taking our game to new levels. We are super excited for the journey ahead and look forward to the success we can create together".
About Paris Saint Germain: Established in 1970, Paris Saint-Germain is the preeminent sports club in France. With it's home city of Paris at the heart of the organization, under the philosophy of one unique city, one unique club, Paris Saint-Germain has transformed to become one of the top global sports brands in the world since the being acquired by Qatar Sports Investments in 2011.
Now one of the most popular sport teams in the world with more than 80m followers, the Club operates through international offices in Singapore, New York, and Doha, alongside headquarters in Paris. The pioneering sports club includes men's football, women's football, handball, judo and esports.
About Talon Esports: Established in 2017, Talon Esports has won titles across multiple games including League of Legends, Overwatch, Street Fighter V, Tekken 7 and CS:GO. Based in Hong Kong, Taiwan, South Korea and Thailand, Talon Esports is an organization that features competitive teams, streamers and a creative studio with thousands of fans globally.