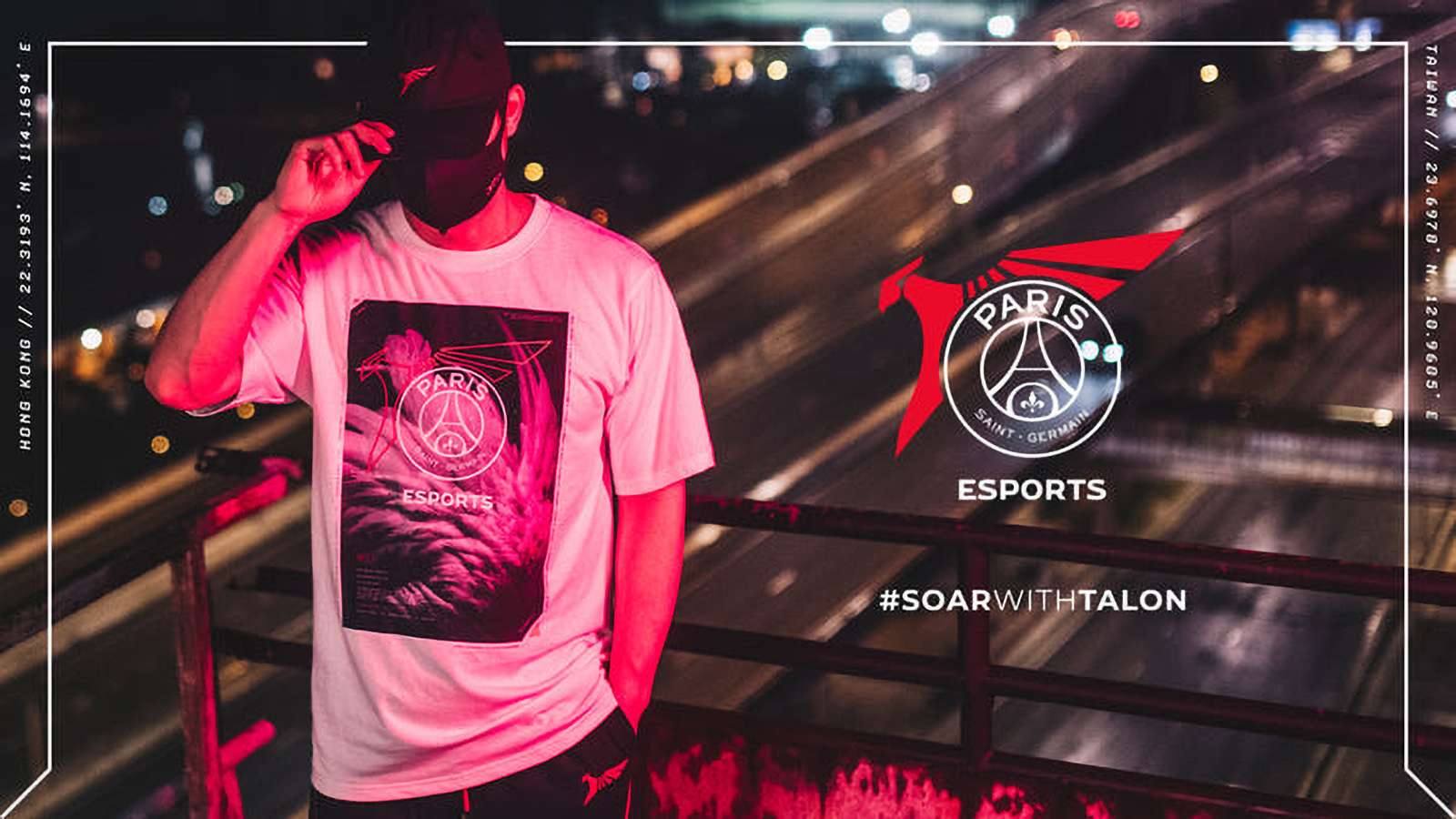 TALON LAUNCHES EXCLUSIVE "PSG TALON" T-SHIRTS
[HONG KONG: May 10, 2021] Talon Esports and its partner Paris Saint-Germain (PSG) Esports are excited announce the May 14 online-retail release of three limited-edition unisex T-shirts.
The exclusive releases honour their fast-uprising PSG Talon team that won the 2021 Pacific Championship Series Spring Split in mid-April, and secured their place to represent the PCS at the Mid-Season Invitational (MSI) 2021 in Reykjavík, Iceland.
Created for PSG Talon supporters as well as League of Legends' fans, the three exclusive T-shirt designs are an extension of Talon Esports' Spring/Summer 2021 debut merchandise line, which launched on April 1. Themed on the new-season's mantra, "Soar With Talon," the distinct modern graphics were designed by Lance Chiu, former Studio Design Director of Nike Asia Pacific and now the Chief Design Officer for Talon Esports.
Combining street, sport and technical elements with inspirations from PSG, League of Legends and esports, the new releases come in black, white or heather grey styles. Featuring artistic interpretations of digitised HUD cyber interfaces and the kinematic study of bird aerodynamics, hardcore fans may recognise the T-shirts' design evolution from last season's 100-piece "PSG Talon Worlds 2020" giveaway T-shirt, created in October 2020.
"With PSG Talon's success in domestic and international competitions we have built legions of fans from across the world. This collection is to celebrate those achievements and to invite fans be a part of our journey." said Jarrold Tham, Co-Founder of Talon Esports.
The PSG Talon S/S21 T-Shirt Collection is available* on May 14, 2021, from www.talon.gg.
(*Shipping Worldwide.)
About Talon Esports
Established in 2017, Talon Esports is an esports organization founded and headquartered in Hong Kong. The organization has teams competing League of Legends, Arena of Valor, Overwatch, Rainbow 6, Tekken 7 and Street Fighter V. Operating out of Hong Kong, Taiwan, South Korea and Thailand with creative studios in each location, it is one of the fastest-growing teams in Asia-Pacific, with millions of fans globally.
For more information, visit www.talon.gg or contact info@talonesports.com.
IG: @talon_esports // Twitter: @PSG_Talon // Facebook: facebook.com/talonesports
About Paris Saint-Germain
Established in 1970, Paris Saint-Germain is the preeminent sports club in France. With its home city of Paris at the heart of the organization, under the philosophy of "one unique city, one unique club," Paris Saint-Germain has transformed to become one of the top global sports brands in the world since the being acquired by Qatar Sports Investments in 2011.
Today, one of the most popular sport teams in the world with more than 100 million followers, the club operates through international offices in Singapore and Doha, alongside its Paris headquarters. The pioneering sports club includes men's football, women's football, handball, judo and esports, since 2016.