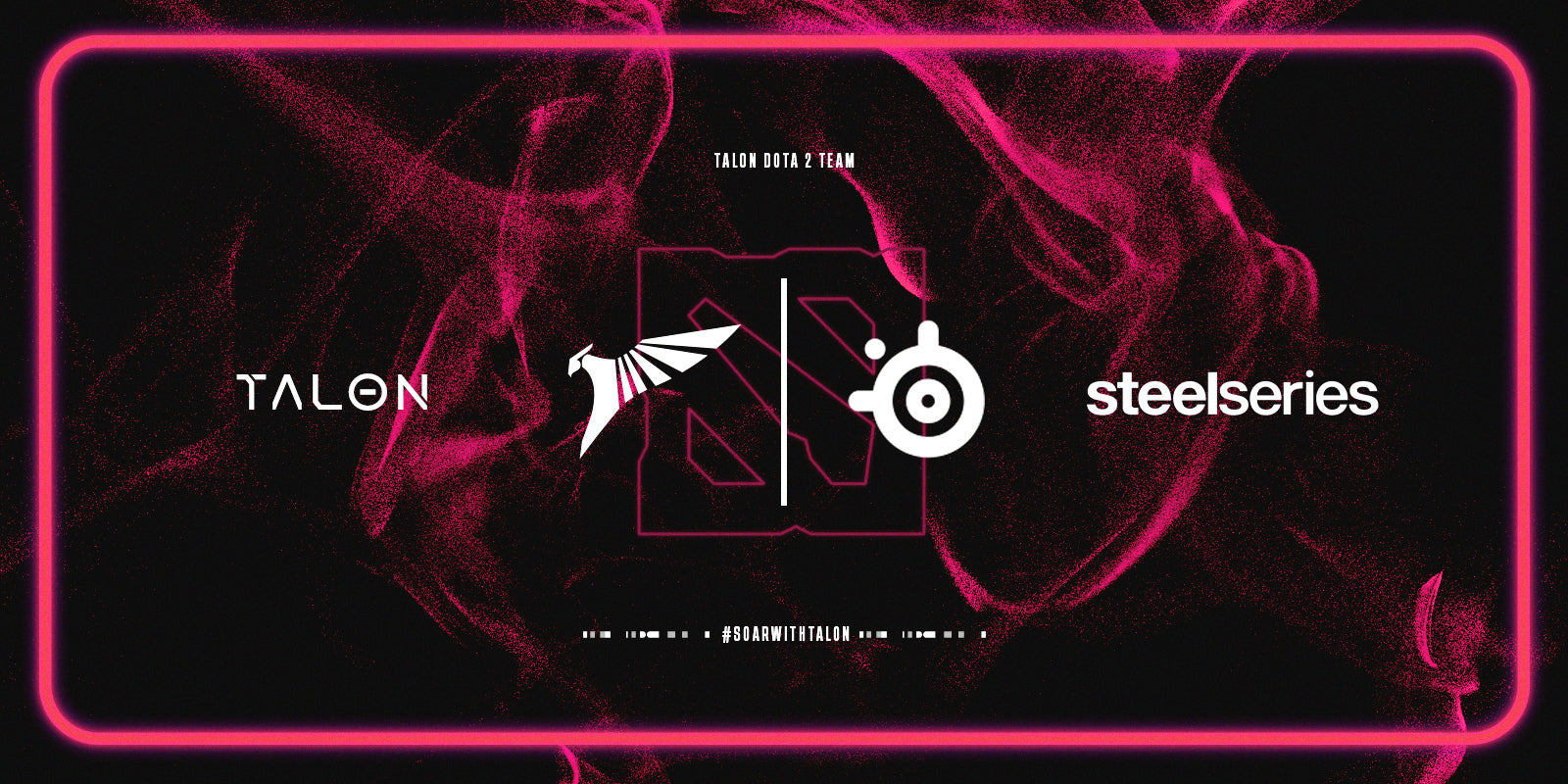 STEELSERIES x TALON ANNOUNCE EXTENDED PARTNERSHIP
SteelSeries extends its partnership as the exclusive peripherals brand for Talon's Dota 2 Team
PHILIPPINES – MAY 1st  2023 – Talon, Southeast Asia's leading esports organization, is announcing another extension to its partnership with SteelSeries as the official Gaming Peripherals partner of the Dota 2 team for 2023.
On the back of their recent successes at the Lima Major and Southeast Asia Dota Pro Circuit (SEA DPC), Talon looks to further its success powered by SteelSeries' best-in-class products.
Talon is a leading esports team in the Southeast Asian Dota scene, having a 3rd place major, and becoming the first team to finish with a 7-0 sweep in the SEA DPC. They are currently competing at the ESL Berlin Major.
"We are extremely proud to extend our partnership with SteelSeries to Dota 2," said Sean Zhang, CEO of TALON. "SteelSeries has been a fantastic partner for us in League of Legends, providing us with the best gaming peripherals and helping us achieve even greater things together. We have full confidence that SteelSeries' products will continue to give our players a competitive edge in Dota 2 as we enter the Berlin Major next week and look to qualify for TI this year. We look forward to further collaboration on new products in the relentless pursuit of innovation."
"We are very excited to extend our partnership with Talon's Dota 2 team in 2023," said Daniel Yeow, Sales Director of SteelSeries, ASEAN.  "It is a tremendous opportunity for us to help empower the team to reach their full potential and achieve even greater success."
The further partnership between Talon and SteelSeries will see the Dota 2 team equipped with SteelSeries' latest gaming peripherals whilst continuing to collaborate on product testing, pushing boundaries and innovating to help gamers achieve glory.
To find out more about Talon, visit talon.gg or get the latest updates on Twitter "@TALON_ESPORTS", Facebook "@TalonEsportsPH", YouTube "@TALON PH", Instagram "@talon_esports", and Twitch "@talon_ph".
To find out more about SteelSeries, visit SteelSeries.com and join the conversation on Facebook at https://www.facebook.com/SteelSeries.Ph, Instagram at @steelseriesph.
About SteelSeries
SteelSeries is the original esports brand that fuses gaming & culture, leading the way in defining a "gaming lifestyle." The worldwide brand creates industry-defining esports and gaming peripherals with a focus on premium quality, innovation, and functionality. Founded in 2001, SteelSeries improves performance through first-to-market innovations and technologies that enable gamers to play harder, train longer, and rise to the challenge. SteelSeries is the pioneering supporter of esports and competitive gaming tournaments, connecting gamers and fostering a sense of community and purpose. SteelSeries' family of professional and gaming enthusiasts are the driving force behind the company and help influence, design, and craft every single accessory and the brand's software ecosystem (SteelSeries GG, Moments video clip service, and the Sonar Audio Software Suite). The SteelSeries family of brands includes KontrolFreek, the industry leader in high-performance controller accessories, and Nahimic, the leader in 3D sound solutions for gaming. In 2022 SteelSeries joined the GN family, a global leader in innovative and intelligent audio and video communications solutions sold in approximately 100 countries around the world. For more information, visit steelseries.com and join the conversation on Twitter at @SteelSeries and Instagram at @SteelSeries.
About Talon
Talon is a leading esports, culture and lifestyle platform in Asia, with headquarters in Hong Kong with regional offices located in Thailand, Taiwan, the Philippines and South Korea. Talon was established in 2017 and operates seven professional esports teams in five markets and has accolades of over 30 tournament wins. Talon operates its own creative studio to run the industry-best esports marketing, content creation, and activities for Talon and its partners. For more information visit talon.gg.